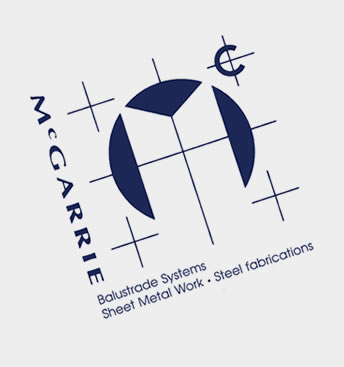 About W. A. McGarrie & Son Ltd
W. A. McGarrie & Son Ltd was founded by Mr. W. McGarrie in 1946.
The present Managing Director is Mr Frank. A. McGarrie (son of founder) who joined the company in 1961.
The workforce is around 40 persons, which includes design staff, Managers and Qualified Tradesmen.
The Company specialises in all aspects of metal fabrications and have divisions specialising in Air Conditioning, Extraction systems, heat recovery and Architectural metalwork.
The Company presently holds the term contract for Tesco Distribution in Scotland, servicing and maintaining their plant at Livingston.
Having branched into balustrade and handrail system 30 years ago we are recognised as one of the leading UK producers and installers of Stainless Steel and glass bespoke systems, and handrails in nylon and hardwood timber being agents for 'Hewi' UK and 'Lignum' system with particular emphasis on the new DDA regulations.
McGarries are also specialists in the paper industry having worked in the top paper producing mills for over 50 years.
Personal attention and detail to clients requirements have made the company one of the leading independent manufacturers in the UK.